Education Abroad
Northern Arizona University
Center for International Education
studyabroad@nau.edu
928-523-2409
Home
> EXCHANGE STUDENTS COMING TO NAU
International Exchange Students
The NAU Center for International Education welcomes you to our campus and to Flagstaff, Arizona. At NAU we welcome over 100 international exchange students every year and look forward to seeing you as a Lumberjack! Our focus is to make sure you get the best academic experience and take advantage of the many opportunities for intercultural communication between other exchange students and our NAU students!

About NAU and Flagstaff, AZ
Flagstaff, AZ was founded around the nation's birthday. On July 4th, back in the day, several travellers hoisted a US flag on a near by tree that had no branches. As more travellers passed by they noticed this flag on a tree. As the lumber industry began, many settlers came to the area to harvest the ponderosa pine trees surrounding the are. Soon people began to refer to the new town as being next to the old flag staff. From there people formed one name and called the town Flagstaff, after the nearby natural flag pole!

On arrival you will see that we are surrounded by the world's largest contiguous ponderosa pine forest. At 7,000 feet in elevation we dare you get outdoors and active! Northern Arizona is surround by many outdoor adventures from hiking to skiing and snowboarding. We see on average 100 inches of snowfall annually and sunshine 3/4 of the year!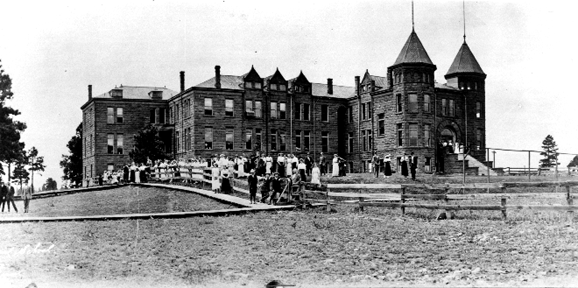 Northern Arizona University was founded during 1899 and began in Old Main with 23 students and one professor. The university was known as Arizona Normal School, transitioned to Arizona Teachers School, then Arizona State College, and finally Northern Arizona University! Today we have over 20,000 students on our Flagstaff Mountain Campus with over 900 full-time faculty! Students can pick and choose from 100 majors and choose to be a part of over 300 clubs and organizations. Now NAU ranks as 15th most popular university in the US based on campus enrollment!

Become True Blue NAU!
We encourage you to participate in the many opportunities available to you. To get you started check out the following links:
Several events have been organized throughout the semester for International Exchange and National Student Exchange students. See below for details. Make sure you "like" and watch the
Exchange Student Facebook
page for updates!
If you have any questions feel free to contact me at Andrew.Sarracino@nau.edu or 928.523.6244

We hope you have a wonderful time at Northern Arizona University!
Andrew Sarracino

Fall 2014 Exchange Student Socials

Welcome Week Events
Don't let this week slip past you. Check out all the excitement all around campus!

When: August 21, 2014-September 1, 2014
More Information: http://nau.edu/welcome-week/#/date/seeall

Highlighted Event: Out of State Student Reception on August 26th, 5:00PM for all incoming National Student Exchange and international students!

San Juan River Trip

Sign up with Outdoor Adventures to take part in an excellent three day river trip down the San Juan River in southern Utah. Enjoy river life, visit local Native American Ruins, and have a unique southwest experience!

When: Mandatory Pre Trip Meeting: Tuesday, October 21st 6:00-7:30 pm
Trip Dates: Friday, October 24-Sunday, October 26, 2014

Cost: $385.00, includes food, transportation, river gear, guides & permits
Course: PRM 399 (1 credit)
More Information & to Register: Contact Outdoor Adventures front desk @ 523.3229 or email us at Outdoors@nau.edu