Education Abroad
Northern Arizona University
Center for International Education
studyabroad@nau.edu
928-523-2409
Financing Education Abroad
The information below will help you learn more about the cost of your program, how you can apply financial aid, and how to find scholarships for your education abroad program.
As mentioned in the "Types of Programs" section, each program type has its own rules for how to pay and what kind of financial aid you can use. Generally speaking, exchange programs are the most affordable way to study abroad for a semester or year (see chart below). Please be sure to review this information carefully.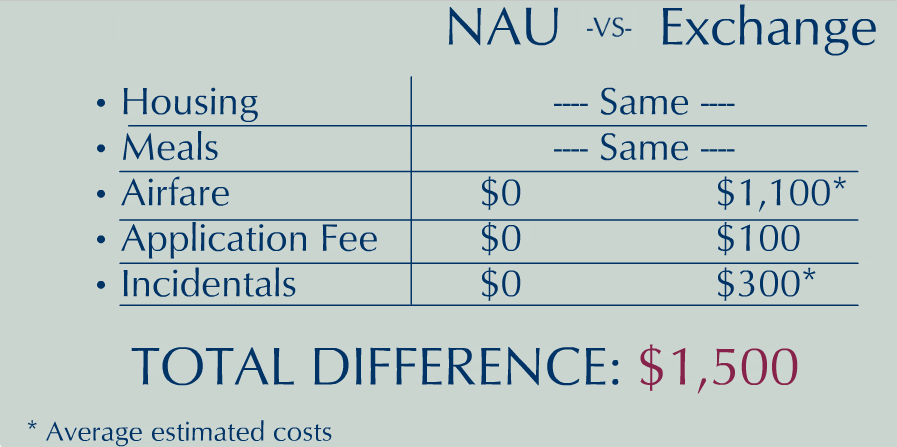 The cost for most programs can be found on that program's brochure page. When reviewing programs, you can find the "Costs" section near the top of the page. Provider programs will advertise their costs on their own website.
To gauge the affordability of our programs, we suggest you use our Cost of Attendance Calculator below to see how much you spend during a typical semester at NAU, and to compare that cost to the cost of studying abroad.
If you are a NAU Scholarship recipient (including but not limited to: AIMS, President's, Dean's, EARP) and you are participating in an Exchange, you may continue to use your scholarship(s). If you are participating on a Provider or Faculty-Led program, your scholarship will not apply for the term(s) you will be abroad, with the exception of EARPs which can be applied to the tuition portion of faculty-led program charges.
There is an application fee of $100 that will be charged to your LOUIE account upon completion of your application. NSE students will be charged $200. Global Research and Internship (GRIP) students do not pay an application fee.
A $500 cancellation fee will be charged to students who withdraw from their program after being admitted, so be sure you are committed to your program when filling out your application materials.
Students not currently receiving financial aid that want to explore that option for Education Abroad should contact the Office of Scholarships and Financial Aid. For any additional information on financial aid and scholarships please contact

Normajean Brown / studyabroadaid@nau.edu

It is highly recommended that students going on summer programs talk to Normajean Brown early on in the application process to discuss summer aid options.

Please see our scholarships section to learn more about study abroad scholarships!
Payment Deadlines
Application Fees – Application fees are due within one month of having finished your application.

Program Fees – Program fees that are billed by NAU are due according to NAU's regular payment deadlines. This applies to exchange, faculty-led, some internships and research, and NSE Plan A programs. Provider and non-NAU programs have their own deadlines.