Virtual Study Abroad Opportunities
There are many opportunities for NAU students to take online courses or participate in a virtual internship over the summer! If any of the below opportunities interest you, please email studyabroad@nau.edu.
Fall 2020
AMIDEAST
AMIDEAST Education Abroad is happy to announce that we have extended the deadline to apply for our fall Virtual Learning and Cultural Exchange Program and scholarships until July 31.

The fall virtual program will allow students to take an entire semester or choice of credit options depending on what fits their schedule. All classes will include virtual cultural exchange with faculty, host community exchange partners, and guests from Jordan, Morocco, and Tunisia. You can learn about what courses we'll be offering here: amideastedabroad.org/home/virtual-learning-courses

Scholarships are available and you can apply here: http://edabroad.amideast.org/?go=Scholarships.

Please visit AMIDEAST's site to begin your application.
Tübingen – Virtual Intercultural Pre-Package (Tü-VIPP)
This fall/winter, Tübingen is offering a unique virtual package consisting of language and intercultural courses to those international students who cannot attend Tübingen University in presence. The package is free of charge for our partner institutions and their students.
Tübingen – Virtual Intercultural Pre-Package (Tü-VIPP)
Dates: October 5 - December 18, 2020
Application deadline: August 30, 2020
ECTS credits: 4 per course (2 NAU credits per course)
Program fee:
Free of charge
The courses are taught in English. Also, students can take German language courses at three different proficiency levels.
For more information please visit the following site:
https://uni-tuebingen.de/de/180552
---
More Fall 2020 Virtual Global Experiences coming soon!
---
Summer 2020

Online courses
---
Forestry 222 - International Edition




For more information, contact Yeonsu Kim (Professor, School of Forestry):
ysk@nau.edu
---
CETYS Universidad - International Summer Program 2020

Based in Ensanada, Mexico, CETYS Universidad offers Summer 2020 online business courses in an intercultural context.
Application Deadline: June 8, 2020
More information and to apply: https://www.cetys.mx/isp/

---
USAC
Globalize your Summer with USAC!
Let USAC bring the world to you through the new online Global Perspectives Program where you can gain an international perspective and develop intercultural experience through online courses offered by select USAC Specialty Programs. Students who complete a USAC Global Perspectives Program during Summer 2020 are eligible for a $500 program fee credit towards a future semester Specialty Program abroad or $300 program fee credit towards a future summer Specialty Program abroad.

Online courses are taught internationally by USAC faculty located across 14 different Specialty Program sites in Europe, Asia and Latin America.

Offerings include some of our most popular courses in business, communication, health, nutrition, language, literature, the arts, international studies, and culture. Three or six academic credits are possible.
See the full list of Summer 2020 offerings here.
Online courses start June 15

Fees: $985 per course (3 credits). Students can enroll in two classes (6 credits).

Application deadline: May 25th, 2020

More information:

Online courses info
Application

Virtual Internships info
​Application
---
UNAM



Mexican Culture courses taught in Spanish
Our partners at UNAM are offering a series of virtual courses in Spanish focusing on Mexican culture (beginning May 11 through June 25). Each course is 30 hours and costs $49 per course.

Please email Mikaela Terry (Mikaela.Terry@nau.edu) if you are interested!
---
CEA

Gain an international perspective while fulfilling degree requirements by taking CEA online coursework.

Not only will you stay on track for graduation, but you'll gain a newfound confidence learning from faculty and peers around the world. Because our virtual courses are not tied to a geographical location, you'll experience a variety of global learning opportunities while staying local. By enrolling in virtual courses with CEA, you become part of an online learning community that supports your academic success and encourages your development as a global citizen. You'll learn through asynchronous teaching, as well as synchronous meetings to build community and mentorship with your CEA classmates, faculty and staff. Engagement with local students in your courses will enrich your cross-cultural experience. Additionally, you can take part in our online Lecture Series that provides an international and comparative perspective on topics that complement your online coursework. CEA's virtual courses are fun and flexible, offer a range of thematic content, and further develops your global citizenship to thrive in an interconnected world.

Summer 2020 Virtual Programs:
Application Deadline: June 8, 2020
---
True Spanish Experience (TSE)
TSE offers Spanish conversation courses over the summer for all levels and for various durations and costs. For more information, please visit
THIS LINK
.
Note: Students can apply all summer because cost is per week.
---
IAU
Academic Online Courses
- As part of the Virtual Experiences Program, IAU is offering several virtual courses in a variety of academic disciplines including anthropology, art, art history, business, communication studies, French, history, international relations, museum studies, political science, psychology, Spanish, and more.
Comprehensive information regarding IAU's Summer 2020 Virtual Experiences may be found at
https://www.iau.edu/virtual
---
IES
IES is offering online courses through University of Tübingen in cooperation with Oregon State University (OSU)

Dates: July 13 –August 07, 2020

Participation is free this summer.

For more information, visit www.uni-tuebingen.de/european-studies
---
ISEP Online Courses and Programs

ISEP is offering a range of Summer 2020 virtual courses and programs hosted at universities across the globe in the following countries: Belgium, Costa Rica, Chile, Argentina, Taiwan, and Greece.

More information HERE.
---
The American College of Greece (ACG)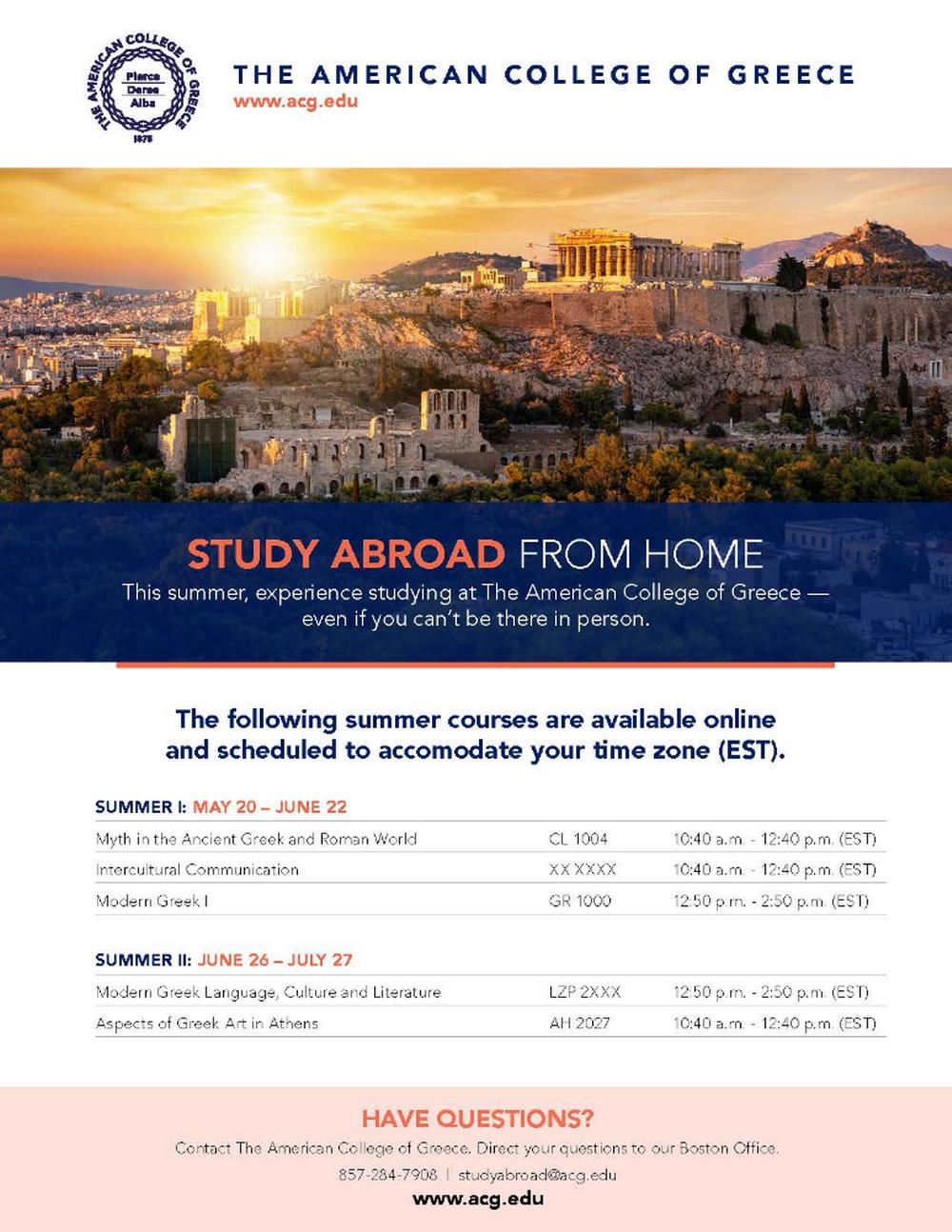 For more information, visit www.acg.edu.
---
Virtual Internships
---
Learn International Virtual Internships
Want to complete a VIRTUAL internship? Check out Learn International program options!

Learn International Virtual Internships (LI:VI) - With options for students across multiple sectors and regions (Europe and Asia), with a dual-location option which gives students an added comparative between western and eastern business placements and culture.

Sectors: Business, Communications, Engineering, HRTM, Info Technology, Marketing, Advertising, PR, Media, Film and Political Science

Here is the LI:VI - fast facts and intro advising video that will give students the general info that they need to make a decision to apply, look for further info or look for another option, if it is not for them.

CISAbroad Virtual Internships
Virtual Internship in Ecuador
Placements available in Art & Design, Business & Economics, Entrepreneurship, Fashion, IT & Computer Systems, Marketing, Advertising, & PR, Sports & Exercise Science
Virtual Internship in Barcelona
Placements available in Art & Design, Education, Engineering, Environmental & Sustainability, IT & Computer Systems, Journalism & Media, Marketing, Advertising & PR, & Non-Profit NGOs, Sports & Exercise Science.
Virtual Internship Program Details (all locations)
Program dates: June 8 - July 31, 2020 (8 weeks)
Hours: 15-30 hours/week depending on the placement. The program curriculum spans the full eight weeks.
Program fee: $1990
---
True Spanish Experience (TSE)
TSE offers virtual internships in Social Service, Education, and Business internships for various durations over the summer. Please visit
THIS LINK
for more information
---
IAU
IAU's 6-week virtual program will draw on IAU's expertise in experiential-based learning while taking advantage of a wide network of professional contacts in France, Spain, Morocco, and beyond. Students will choose from academic courses, global internships, consulting projects, and social impact practicums to customize their summer virtual experience. These experiences include:

* Global Internships - This experience is designed to immerse students in a multicultural professional space through virtual means. This hands-on internship experience is complemented by an academic component, which guides students through the experience and helps them strategically reflect on challenges, accomplishments, and personal and professional development. Students are intentionally placed in an internship based on interests and skill sets in organizations in France, Spain, and other European countries with the aim to build their professional network through industry-specific training.

* Consulting Projects - In this course, students apply the core elements of organizational consulting to real-life scenarios across a variety of industries. A large part of the course contains an industry-specific consulting project led by a professor in partnership with international organizations, where students work in groups to create a solution to present to the organization through a virtual professional presentation.

* Social Impact Practicums - Experiential Learning Projects - The Virtual Social Impact Practicums: Experiential Learning Projects are humanities-based internships which are academic courses that have an experiential learning project component. These project-based courses are offered within specific academic fields where students apply the skills they have learned to real-world problems and scenarios in partnership with international organizations and IAU community partners.

Comprehensive information regarding IAU's Summer 2020 Virtual Experiences may be found at https://www.iau.edu/virtual

CALENDAR

* May 22 - July 31, 2020 - internships
* July 1 - August 12, 2020 - courses, practicums, consulting projects

APPLICATION DEADLINES

To apply, students may visit https://www.iau.edu, click "Apply Now" at the top of the page, and follow the prompts.

* May 22: Deadline for students wanting to secure Global Internships
* June 1: Priority deadline for students wanting to secure Consulting Projects and Courses
* June 15: Final deadline for Consulting projects and Courses
---
The Intern Group Virtual Internships
Part-time or full-time internships in your chosen field wherever you are. With programs starting every week of the year beginning June 22, and flexible options ranging from 4-12 weeks for 10, 20, 30 and 40 hours a week, you can get international work experience in any career field on your schedule through our global network of 3,000+ leading companies. TIG's internship program also includes in-depth career competency training and access to an exclusive keynote speaker series with real-time Q and A.​
These virtual internships are run through ISEP. More information
HERE.
---
GE Virtuoso Virtual International Internships
Global Experience's virtual internship program allows you to gain the same benefits from working with an international company and access to career coaching and a professional development program from anywhere in the world. Each internship lasts 8 weeks with 25-40 hours of work per week. Although there are only a few start dates throughout the year, GE Virtuoso is an affordable option to get cultural and career experience in any field.
These virtual internships are run through ISEP. More information
HERE
.
---
If any of the above opportunities interest you, please email studyabroad@nau.edu.