Education Abroad
Northern Arizona University
Center for International Education
studyabroad@nau.edu
928-523-2409
This page is the brochure for your selected program. You can view the provided information for this program on this page and click on the available buttons for additional options.
Pavia, Italy
(Exchange Program) (Outgoing Program)
Term

Year

App Deadline

Decision Date

Start Date

End Date

Spring

2018

10/15/2017 **

Rolling Admission

01/25/2018

07/01/2018

NOTE: These dates are estimates. Exact dates will be provided later.

Academic Year

2018-2019

04/01/2018 **

Rolling Admission

TBA

TBA


**



University of Pavia
Pavia, Italy
---
ABOUT THE PROGRAM
The city of Pavia was founded on the left bank of the River Ticino more than two thousand years ago. Nowadays, almost 75,000 people live in this city, only 35 km from Milan. There are eight museums in this small town.


Universita degli Studi di Pavia (The University of Pavia) was one of the first Italian universities to enact procedures for the internationalization of its academic system. The University of Pavia, together with the Universities of Bologna and Siena, was the first to implement the ERASMUS Programme for foreign students (1988). Similarly, Pavia has been collaborating since the late 1980s, within the framework of the Coimbra Group (a group of the oldest and most prestigious European universities), on a number of projects for the "Europeanization" of the university system (i.e. implementation of the ECTS credit transfer system). These projects were subsequently approved by the European Union.

Based on its experience at the forefront, UNIPV believes in the need to create opportunities for its students to pursue international careers (offering international scholarships for outstanding incoming and outgoing students) as well as to encourage research activities (financing projects for researchers at UNIPV and attracting scholars from around the world). Using its numerous academic contacts that have been established over the years, UNIPV has been able to create a network of international collaboration that today is represented by over 500 partner universities and research institutions throughout the world. This has led to prestigious recognition within international academia.

The University of Pavia has dedicated a portion of its international funds and human resources to developing countries through the establishment of the Centre for International Cooperation and Development (CICOPS). The International Relations Division is responsible for coordination and implementation of internationalization activities. The Division follows the directives of the university governance and works in collaboration with the Pro-rector for International Relations.
---
ACADEMICS

Courses taught in English (Masters)
Italian as a Second Language

For a relatively small fee, exchange students can enroll in the Italian as a Second Language program, along with taking UGRD courses taught in Italian. The Italian Language courses are meant to provide exchange students with the minimum knowledge of Italian required to be able to attend clases and take exams. The courses in this program will be tailored to reflect the level of fluency of each individual student. Italian as Second Language courses CANNOT be taken alone.

There are three language courses offered at the University of Pavia:
1 - An Italian intensive taking place in September. It is a 3 week program that offers 3 US credits*. This costs an additional 150€**.
2 - A semester-long Italian course that takes place during the fall semester, and offers students 5 US credits upon completion*. This program costs an additional 190€**.
3 - A semester-long Italian course that takes place during the spring semester, and offers students 5 US credits upon completion. This program costs an additional 190€**.

* Note: Options 1 and 2 are only available to students studying in Pavia for a full-academic year.
** Students wishing to enroll in more than one language option receive a discount. Options 1 & 2 cost 300€, Option 2 & 3 cost 330€ and all three options cost only 400€, in addition to the NAU tuition you would pay for this program.

In recent years, the University of Pavia has responded to the growth in international communication by strengthening its language-learning resources. Some thirty-odd mother-tongue foreign language experts, known as Collaboratori ed esperti linguistici, now provide language support services for staff and students alike. Students and visitors have access to the Language Centre's impressive stock of courses, exam materials, dictionaries, audio and videocassettes and DVD films relating to 50 languages.

Courses in Italian

If you've completed 6 or more semesters of college-level Italian, you can enroll in regular university classes taught in Italian. To find courses offered, use the links provided below.

Economics
Law Engineering
Arts Medicine Musicology
Sciences Political Science Bioengineering
Biotechnology Communication Motor sciences

The majors listed above also offer Masters courses, for those who may be interested. Majors specific to a Masters program include Pharmacology, and European History.
Getting Credit for Studies Abroad
Students who wish to receive academic credit (aside from general elective and liberal studies credit) must have their courses pre-approved by the appropriate department. To view a list of academic advisors, please review the information in our Academics section. Once you apply through our website, you will be able to enter the classes you wish to take electronically. These classes can be reviewed and approved directly by faculty once entered. If you would like courses abroad to count for general elective credit or liberal studies credit only, please contact your Education Abroad advisor for those approvals.
---
ACADEMIC CALENDAR

Semester I: September to Mid January
Semester II: Late January to Mid June

Academic Calendar
---
HOUSING

The University of Pavia is among the universities that possess the most extensive residence hall systems in Italy. The majority of its students are housed in one of its 15 Halls. The most ancient ones date back to 1564 (Collegio Borromeo) and 1567 (Collegio Ghislieri), while the two most recent ones (Collegio Maino and CollegioVolta) were founded in 2000. The Residence Halls are either male- or female-only, catered or self-catered (with kitchens on each floor for student use). Most Halls admit both undergraduate and graduate students and places are offered for the academic year except for Christmas and Easter vacations.

Also available are flats (private or campus-run), or homestay families.
---
COSTS
To view the costs for this program, click the "costs" link at the top of this page. This will direct you to a line-item breakdown of how much the program costs and what is included in those costs.
---
REQUIREMENTS

The requirements for this program are:
- 2.5 GPA
- Some Italian recommended for Italian as a Foreign Language program
- 6 semesters or more of college-level Italian Language courses completed for study in Italian

---
HOW TO APPLY
To apply to this program, all you need to do is hit the "Apply Now" button found at the top of this page. Once applied, you will have your own personal study abroad page, with a checklist of items needed in order to complete your application. Once you complete your application, you will be charged a non-refundable application fee of $100.
---
TALK TO AN ADVISOR
If you would like to talk to an advisor about this program, you can find his/her name at the top of the brochure page. To make an appointment, or view walk-in hours for this advisor, please visit the "Talk to an Advisor" section.
---
STUDENT EXPERIENCES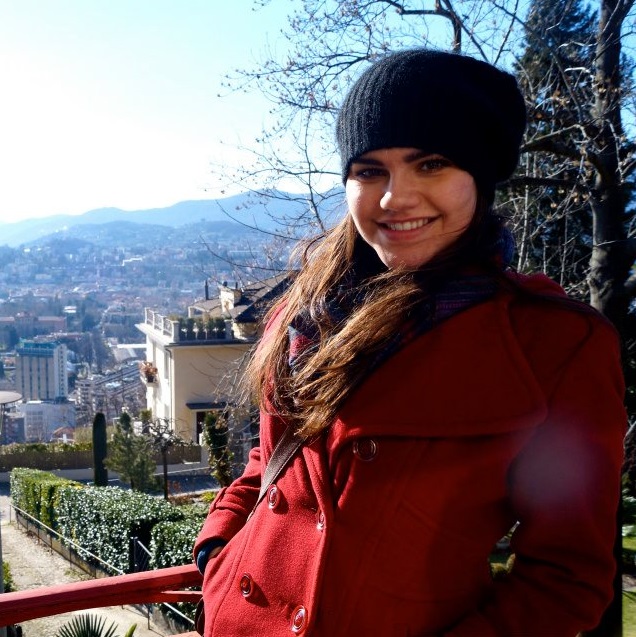 Bianca Buliga
Milan, Italy
"I woke up bright and early to meet up with a group of other international students to take the train for a little over an hour to Como! If you ever get the chance to go to Como, do it. You won't ever regret it."
Read her blog!
---
VIDEO
Discover the University of Pavia